Overview
COVID-19 response has put a spotlight on the key role schools play in the health of students, but this has been the case since long before the pandemic. Since sick children can't focus on learning, by necessity, schools address the many health challenges that face students, ranging from minor illness to chronic conditions. In addition to helping students with individual health concerns, schools are uniquely positioned to increase access to healthcare and provide vital education and environments that help children develop healthy habits and reach their full potential. External support is vital to helping schools make the most of these opportunities.
School Nurses
With input from the community, the Foundation identified school nurses as a key lever in expanding school-based health. School nurses are on the front lines of meeting the health needs of students. Their work goes far beyond bandaging playground scrapes, to helping students manage chronic health conditions, learn healthy habits, and connect to community resources. 
However, community input and data shared with Moses Taylor Foundation indicates that local school nurses are often under-staffed, under-supplied, and in need of additional professional development opportunities. Responding to this feedback, the Foundation has prioritized supporting school nurses in their work to meet student health needs across the Foundation's 11-county region, particularly in districts where more than 50% of students are eligible for free or reduced-price lunch.
The Foundation began this work in 2019 by commissioning a needs assessment of the region's school nurses. This assessment was conducted by the National Association of School Nurses (NASN) and completed in early 2020. Results were used to further guide the development of the Foundation's School Nurse Strategy. 
School-Based Health Centers
School-based health centers have been proven as effective, sustainable models to eliminate health disparities and barriers to care, improving health outcomes for students and their families.
As part of our effort to expand school-based health, the Foundation is interested in providing support to create new, and expand services offered at existing, school-based health centers in Lackawanna and Luzerne counties. Priority will be given to schools with large percentages of low-income students, high enrollment, and lack of proximity to comparable care.
School Nurses Needs Assessment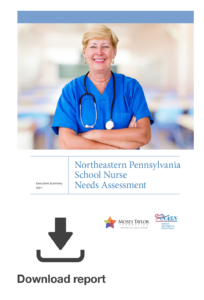 To ensure that Moses Taylor Foundation directs its School Nurse Support Initiative in the areas most likely to have impact, the Foundation contracted with the National Association of School Nurses (NASN) to conduct a population-based school nurse needs assessment in Northeastern Pennsylvania. The project was designed to meet three objectives:
Define student health needs that school nurses in the region are addressing by mandate and by necessity

Determine the current barriers school nurses face in meeting the student health needs that fall within the scope of what they address

Propose solutions to assist school nurses in overcoming these barriers in the short and long term, based on the gathered data, as well as best practices
After the needs assessment was completed, the Foundation used this research to craft a responsive strategy to support school nurses, in partnership with school districts and administrators throughout the 11-county region. The five primary points of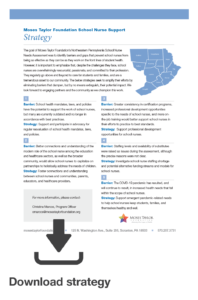 Moses Taylor Foundation's strategy include: 
Support and participate in advocacy for regular re-evaluation of school health mandates, laws, and policies. 

Foster connections and understanding between school nurses and communities, parents, educators, and health care providers. 

Support professional development opportunities for school nurses. 

Investigate school nurse staffing shortage and potential alternative funding streams for school nurses.

Support emergent pandemic-related needs to help school nurses keep students, families, and themselves healthy and well. 
Beginning in the fall of 2021, the Foundation will kick-off an awareness campaign to formally share the results of the NEPA School Nurse Needs Assessment as well as engage the strategy point of "fostering connections and understanding between school nurses and other stakeholders."
School Nurse Awareness Campaign
School Nurse Awareness Campaign Resources  
In partnership with other stakeholders, Moses Taylor Foundation is working to shine a light on the critical role school nurses play in promoting the health of children in our communities. Recognizing that school districts face competing demands for limited resources, we aim to expand decision-makers' understanding of the roles school nurses play to more effectively utilize existing school nurses and provide additional support whenever possible. Inviting other community stakeholders into this dialogue will strengthen connections between school nurses and community resources and increase public understanding of school nurses as vital public health partners.
As part of our strategy to raise awareness of the role of the modern school nurse and foster connections and understanding between school nurses and communities, the Foundation has developed sharable resources for widespread use. 
Materials available for download are coming soon.